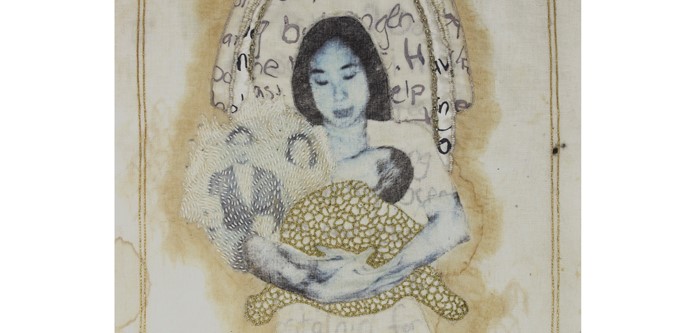 January 9 – February 8, 2020
Curated by Adele Ruhdorfer
Artists
Yvette Cenerini
Lux Habrich
Bram Keast
melannie monoceros
Laurence Philomène
Jesse Turner
Affiliated programming
Offsite exhibition: Window Gallery, a 24 hour display window on the outside of the Artspace Building located at street level in Winnipeg on Bannatyne Avenue between King and Arthur Streets. Featuring work by melannie monoceros.
Reception: January 9, 4:00 – 6:00 pm at Gallery 1C03
Featuring a durational performance by Jesse Turner. Remarks at 4:30 pm.
Additional performances by Jesse Turner at Gallery 1C03:
January 14, 12:00 – 4:00 pm
January 17, 12:00 – 4:00 pm
January 28, 12:00 – 4:00 pm
February 6, 10:00 am – 2:00 pm
Lecture by Diane Driedger: January 31 at 1:00 pm in Room 2C15 at The University of Winnipeg.
Panel discussion: February 4, 2:30 – 3:45 pm in Convocation Hall at The University of Winnipeg
Featuring Yvette Cenerini, Bram Keast, melannie monoceros and Jesse Turner. Moderated by Adele Ruhdorfer.
ASL can be arranged for our events with two weeks' advance notice by contacting Gallery 1C03's Director/Curator.
Yearning for Comfort, Not Cure is a group exhibition curated by University of Winnipeg History of Art student Adele Ruhdorfer. In this exhibition, six national artists explore their varied embodied experiences with disability, chronic illness, and madness, which are materialized and given form through the labour-intensive processes of performance, craft-based, and digital media. In addition to exploring the theme of complex embodiment, the artists deal more specifically with dis/comfort, chronicity and temporality, collage and fragmentation, familial histories, interdependence, sensory variance, and the compounding social effects that race and gender have on their bodies. Artists include Yvette Cenerini, Lux Habrich, Bram Keast, melannie monoceros, Laurence Philomène, and Jesse Turner.
In exploring the creative diversity within the disability, chronically ill, and mad community, Yearning for Comfort, Not Cure attempts to de-stabilize the disempowering medicalized discourse and emphasis on cure. The creative process itself is framed as the counterpoint to this normative discourse, by becoming a site of refuge, catharsis, and validation for both artist and viewer. By creating and holding the space to explore their varied experiences of trauma, grief, ambiguity, confusion, and exhaustion, the artists are also able to create experiences of joy, pride, and comfort within their own body-minds. However, this process of vulnerably sharing and externalizing their experiences extends far beyond themselves, allowing for the building of a wider community. It is within this social community, where we de-emphasize the role of cure for the individualized body, that more comfort and care can be created for all.
Gallery 1C03 wishes to acknowledge to the following University of Winnipeg departments and programs for their support of this project: History, Disability Studies, Women's and Gender Studies, and Accessibility Services. We are also grateful to the Institute for Women's and Gender Studies, greenhouse artlab, Window Gallery, and the Arts AccessAbility Network Manitoba for their partnership on this exhibition's programming.
Gallery 1C03 hours: Monday – Friday: 12:00 – 4:00 p.m., Saturday: 1:00 – 4:00 p.m. Open 10:00 am – 4:00 pm on February 6.
Accessibility: Gallery 1C03 is located on ground level of Centennial Hall. There are accessible and gender-neutral washrooms on campus. Please consult the University of Winnipeg's accessibility map for more detailed information. Gallery admission is free and everyone is welcome.
For more information, contact:
Jennifer Gibson, Director/Curator, Gallery 1C03
1st floor, Centennial Hall, The University of Winnipeg
515 Portage Ave, Winnipeg MB R3B 2E9
204.786.9253 | j.gibson@uwinnipeg.ca